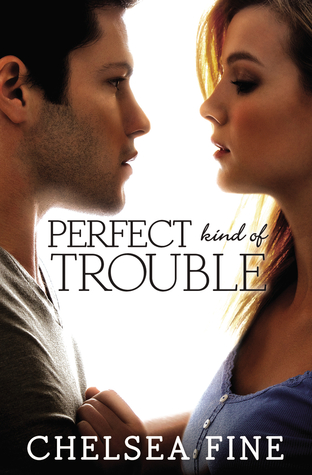 Perfect Kind of Trouble
by Chelsea Fine
Release Date:
June 17th, 2014
Pages:
336
Publisher:
Forever
Series:
Finding Fate #2
Review Copy:
e-ARC provided by the publisher in exchange for an honest review
Purchase:
Amazon
|
B&N
Description from
Goodreads
:
Sometimes when perfect falls apart, a little trouble fixes everything . . .
Twenty-one-year-old Kayla Turner has lost everything. After spending most of her life taking care of her ailing mother, she just wants to spot a glimmer of light at the end of the tunnel. So when her late father-a man she barely knew-leaves her an inheritance, she finally breathes a sigh of relief . . . until she learns the inheritance comes with strings. Strings in the form of handsome playboy Daren Ackwood, her father's protégé. To see any of her inheritance, she's forced to team up with him. From his expensive car to those sexy dimples, Kayla's seen his type before. But Daren isn't who he seems to be . . .
Struggling to make amends for his family's mistakes, Daren has a life more Oliver Twist than Richie Rich these days. He's beyond grateful that James Turner included him in his will, but working with Turner's princess of a daughter to fulfill his cryptic last wish is making Daren wonder if being broke is really so bad. Still, she's just as beautiful as she is stubborn, and the more time he spends with Kayla, the less it feels right being without her. Soon Daren and Kayla begin to wonder if maybe the best gift Kayla's dad could have left them . . . was each other.
I absolutely adored Chelsea Fine's first novel in the Finding Fate series, Best Kind of Broken. I felt all of the feels and reading that book was such an experience. So I was positively looking forward to reading this companion novel, especially since this premise was so fun. I mean, seriously. In handcuffs with a hot guy going on a scavenger hunt for an inheritance that could very likely be hefty? Sweet.
Reading this was an experience, too, except this time I buddy read with Val from Stuck in Books. Fun fact: buddy reading with Val is always hilarious. We had a good time with it. Made a list of characters we hated, made guesses as to what was going on with things, and discussed other stuff we liked or wanted to slap in the novel. By the time we were finished, we both agreed that this book was super flipping good.
Kayla was a character that grew on me. When we first start the story, we don't know much of anything about her other than that she stopped visiting her dad. Which sounds like a total B thing to do, yeah? But as we learned more about her, it came to light that she was actually a pretty cool chick. All she wanted was to be SEEN. For people to pay attention to what she had to say, how she felt, what she thought--instead of focusing on her looks. I liked that Kayla was so self aware, and I also liked that she didn't depend on her looks for everything. She wanted to be around people who weren't shallow. Who listened to her. As I said, she wanted to be SEEN.
Daren was going through his own internal struggle, as well. He didn't exactly have a great sense of self worth. But goodness gracious, I loved seeing his growth with Kayla. I love this boy. He's my knight in shining manacles. He's such a great guy, but that also got overlooked by most people because of his reputation, a lot of which not even his fault.
Both Daren and Kayla got dealt some crappy cards in the game of life, and with that they connected. I enjoyed watching that. They both went into the cuffs arrangement with a bunch of assumptions about the other, a majority of those negative. But as they went through the scavenger hunt, they spent more time together and learned more and I loved watching them learn the truth about each other. It led to some fabulous, sweet romance, that made me feel at least twenty levels of HAPPY!
Remember, I heart Daren. My knight in shining manacles, remember. ;)
Though I really liked this book, I still had a few little issues with it. There were some times when the positioning or just something Kayla and Daren were doing didn't fit logically with how they were wearing the cuffs. Also, I was hoping for there to be an awkward scene in which they tried to use the toilet. We didn't get to see that--though it was mentioned in passing when they got the handcuffs off. And I was hoping for Daren to interact with Pixie at least a little. He mentioned that he needed to have a chat with her, but we never got to see that.
Overall, I highly enjoyed Perfect Kind of Trouble! The premise was fun and the characters were fantastic. I especially loved Daren and his shining manacles! Chelsea Fine's written another great novel and I cannot wait for the next in this series. I'm sure it's going to be just as fabulous as the first two.