For Review:
Whoa. That's a lot, right? And I don't think that's even all of them. I'm going to be scrolling through my Kindle later and notice at least, like, three that I forgot to list. Blah.
Copper Girl by Jennifer Allis Provost
This is one of the books releassing from Spence City, the SHP imprint. It sounds like a super cool book, and goodness knows I love Spencer Hill Press.
First Light by Samantha Summers
This one's for a blog tour! I'm pretty sure she's dating a guy who murdered somebody? Or something? Either way, I'm so excited to get to this book. When I finally got it in the mail (all the way from AUSTRALIA!), I had to do a happy-dance. I remember this book looking great when I signed up for the tour. So yay!
Suddenly Royal by Nichole Chase
Kelly Simmon is a wonderful person and sent me an ecopy of this for review, and I am so happy about it! Royalty and romance. I AM SOLD. Also (I almost forgot this because apparently I am a RUDE, RUDE person) THANK YOU, KELLY! You're always so niiiice to me. I appreciate it more than I can say. <3
A Moment by Marie Hall
It's new adult and it seems romantic and that cover just...it just got me. So when I saw it on NetGalley... And I want to read it so bad right now. SO BAD. But I can't yet. Gah! Just...read the description on Goodreads. The book covers are all linked. Read it and then come back and tell me that book doesn't look fantastic.
**SPOILER ALERT** You won't be able to.
The Awakening: Aidan by Abby Niles
Oh, Entangled. I don't know what I'd do without them. I saw this on NetGalley, and it just seems like my kind of book. Heck, just look at the cover. Ahhhhhhh.
Gone With the Wolf by Kritin Miller
The title of this one...ha! I love it. And then it's about a guy and love and stuff, and I'm going to go out on a limb here and say it's about a wolf...? I read the synopsis when I requested on NetGalley, but it is almost 3 AM, so I'm kind of blanking. Either way, we all know that if it's romantic, more often than not, I want to read it. Then add in the fact that this is another one from Entangled...Yeah.
Tragic by J.A. Huss
A New Adult Contemporary Romance. Boom, I'm there. This one is also for a blog tour, by the way.
When You Were Here by Daisy Whitney
I...have not read anything by Daisy Whitney before. I've heard about her books, but...yeah, no. But I've actually had my eye on this one for a while. So yay to Little, Brown for being awesome and letting me get this off NetGalley! Also, that cover? I LOVE IT.
Frozen Fire by Tim Bowler
I actually read this back in middle school. But then I was doing my library aide thing on Friday and for some reason, this book was in my mind. So I grabbed it and checked it out and now...I'm not sure. Maybe I'll re-read it. Maybe I'll just look at a couple parts. Either way, this book? Is really good. It was kind of confusing, though. But I think I actually get it. Which makes me all kinds of happy, because I usually don't GET confusing books, I usually need people to explain them to me. So I don't think this book is for everybody, but I think it's a good one for people who have enough patience to deal with it...if that makes any sense?
Living Dead Girl by Elizabeth Scott
I was watching a bunch of Kiera Cass' videos on Youtube (for no good reason at all) and cam across one with her
Top 5 Jacked Up Books
. I watched it, and this book was in it, and then I HAD to check it out. I like Elizabeth Scott's books. I can only remember not liking one--
As I Wake
(which I reviewed), because it...ha! It confused me. But other than that, I'm a fan of her books. So I grabbed this from the library on Friday as well. And, um...yeah. It's jacked up.
Y'all already know that I've read The Collector. I have an ecopy (two, actaully!) and love it--and its author--to death and beyond. But I did not have an actual, physical PRINT copy....until now!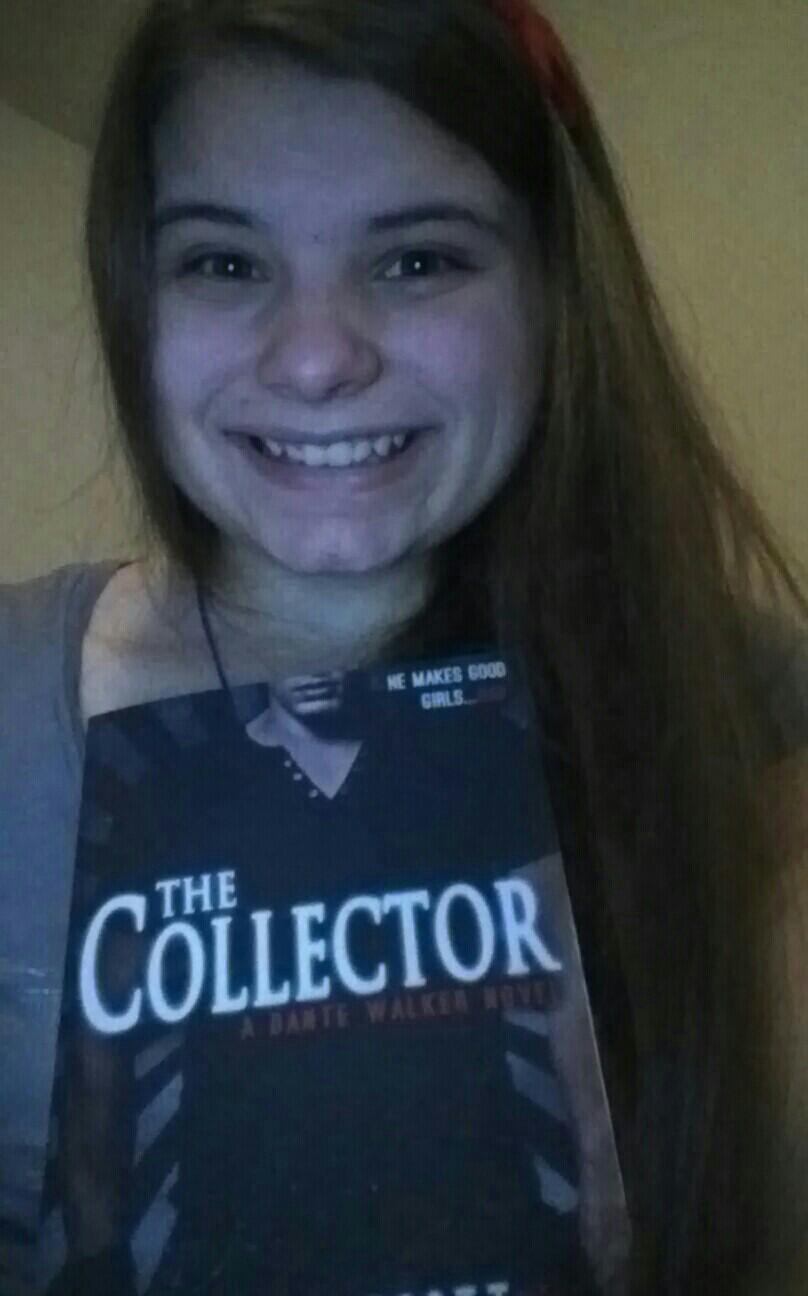 I. Am. So. Freaking. NDSFIGNQNQE. About. This!
My school librarian gave it to me. Mhm. Yeah. I am so serious right now. Is she the best or WHAT?!?! I'd told her about it (of course, what kind of super fan would I be if every person I came into contact with didn't know about this book? And all my friends? They have to put up with me talking about Dante Walker like he's an actual person. *cough*Perez*cough*)...so, where was I...I'd told her about it, and she got me a copy. I do not know why. I do not know when. I just walked in to do my library aide thing on Wednesday and she gave it to me and I flailed accordingly. And now it is sitting on my shelf--my FAVORITES shelf, to be exact--all nice and pretty.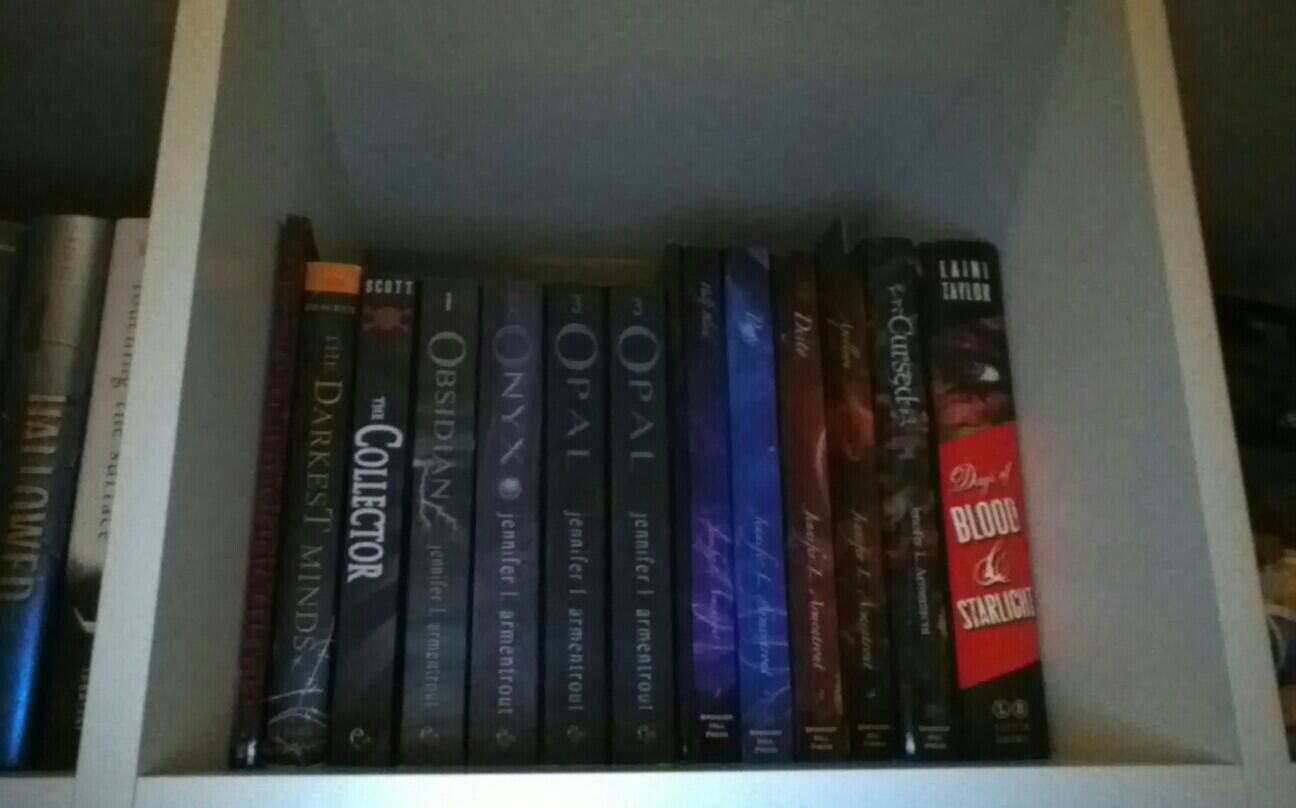 Goodness, I love it. So much. I'm pretty sure my school librarian will never see this, but if by some weird chance she does--THANKYOUTHANKYOUTHANKYOU. Goodness gracious, thank you.
So I want to babble about Dante and how AWESOME he is and how I can now feel even more like V's OFFICIAL super fan, but, as I've said, it's past 3 AM and I have other things to do, believe it or not. And this song...NO. I WON'T BABBLE.
That is all I got this week.
(The song is She's Got Something by Greg Holden, if you want to look it up)
So, kind people, tell me:
What did you get this week?
Have you read anything I got?
Which books?!?!
Have you heard that song, if you looked it up? I am kind of addicted to it at present.
How was your week? Crazy, huh? I live in Texas. I getcha, people. I getcha.
Did you notice that there are two copies of Opal on that shelf?
I don't know why I just mentioned that. It means LITERALLY nothing.
Okay, I'll leave it there. Answer at least one of those in the comments? Or all of them if you want. Or none. Be random. Make me laugh. It's up to you.
Have a great Sunday, y'all!
♥Jessica(: