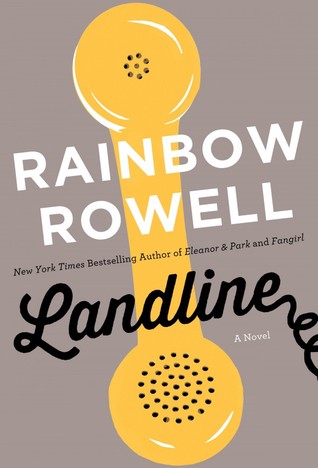 Landline
by Rainbow Rowell
Release Date:
July 8th, 2014
Pages:
308
Publisher:
St. Martin's Press
Review Copy:
Review copy provided by the publisher in exchange for an honest review
Purchase:
Amazon
|
B&N
Description from
Goodreads
:
Georgie McCool knows her marriage is in trouble. That it's been in trouble for a long time. She still loves her husband, Neal, and Neal still loves her, deeply — but that almost seems besides the point now.
Maybe that was always besides the point.
Two days before they're supposed to visit Neal's family in Omaha for Christmas, Georgie tells Neal that she can't go. She's a TV writer, and something's come up on her show; she has to stay in Los Angeles. She knows that Neal will be upset with her — Neal is always a little upset with Georgie — but she doesn't expect to him to pack up the kids and go home without her.
When her husband and the kids leave for the airport, Georgie wonders if she's finally done it. If she's ruined everything.
That night, Georgie discovers a way to communicate with Neal in the past. It's not time travel, not exactly, but she feels like she's been given an opportunity to fix her marriage before it starts . . .
Is that what she's supposed to do?
Or would Georgie and Neal be better off if their marriage never happened?
I think I should start this review by being completely up front with you guys: I totally cried. Not even because of one specific thing. Like, there wasn't one specific moment where something SO SAD happened and I lost it. It's just that this whole entire novel has this tone to it, this seriousness about it that drew me in and wrung me out. I loved it, and I FELT it. And goodness, I'm going to relive it through re-reads again and again.
Rainbow Rowell established herself as one of my favorite authors with Fangirl, which is kind of an accomplishment because I generally have a rule of having read at least two books by an author (preferably not in the same series, but that part's not a die-hard deal breaker) before I declare them a favorite. But Rainbow Rowell's writing is magic. Her writing is so absolutely enchanting and beautiful, the moment I started in on Landline I was a goner. I was pulled in and pulled under and I still haven't come up for air. I'm completely under her spell, and I never want to break it.
With this being an adult novel, there's a more serious tone to everything. The main character is seriously facing marriage problems, and everything was seriously happening, and it all just struck this cord in me that kind of hurt in the most fascinating way. The characters were so complex and defined, I can honestly say I loved them all. I loved them all and I sympathized with them all. I could see Georgie's side and I could see Neal's side and I wanted things to work out on both ends. Heck, I NEEDED things to work out on both ends.
The magical phone aspect was woven into the story perfectly. That so easily could have been construed in a way that took away from the feel of the book, from how heavy everything felt. Instead, it gave me the parts I'm pretty sure I most looked forward to throughout the book. I adored those conversations with Neal.
But then, I think I just adored NEAL. He's the kind of guy that I realistically could see myself ending up with--hope I end up with. He's not perfect, but he's great. He's so, so great.
Romance in this book was achieved through sweetness. Phone conversations with Neal. Flashbacks to things that happened before the actual timeline of the story. Stuff like that, all wrapped up in one big package and aimed directly at my heart. Dear goodness, I loved it. I loved everything about this book, romance included.
Overall, Rainbow Rowell has worked her magic yet again with
Landline
. With her complex characters, consuming story line, and gorgeous writing, she's woven another story that will not only stick in my mind for a good while--but is now one of my all-time favorites.