Love, Honor, & Hope - A Benefit for the United States War Veteran's PTSD Foundation
Eight authors are joining forces to support one fantastic cause. Beginning June 24, 2014,
Love, Honor, & Hope,
an anthology of eight full-length novels, will be available for 30 days at the low price of $0.99. That's right, just 99 pennies. The best part is that 100% of the proceeds will be donated to the United States War Veteran's PTSD Foundation.
PTSD, Post Traumatic Stress Disorder, affects approximately 19% of the military men and women returning from Afghanistan and Iraq—and that's just those who have been diagnosed. The percentage is expected to grow as more of our military members seek treatment. It's a heartbreaking trend for the men and women who sacrifice so much for our freedoms, especially with benefits being cut and promotions being threatened.
The United States War Veteran's PTSD Foundation is a non-profit charity that focuses on providing FREE care to combat military members, both active and veterans. They can't do it alone, which is why we've made the decision to step up and do something. All eight of the authors have their personal reasons for supporting this cause. Cherime MacFarlane, author of
Heart of the Hunter
said, "For me, it's the way a very quiet man, my uncle, receded into the background whenever a family function took place. I did understand he came back from WWII that way. A young man, easy going and quick to laugh became a recluse. My father also served in WWI, as did a second uncle who returned far from the mischievous young man he was before the war claimed his youth. I was a young mother during the Vietnam era. I had friends who did not come back from Vietnam. I had other friends who did come home but were permanently damaged by the things they saw. For me, this is an opportunity to give back something to the men who served their country when the call came. My uncles and father are gone now, but I do hope, in some small way, to pay it forward for them. This is a tiny step, but as the man once said, every journey begins with that first step."
It's easy to sit back and talk about helping our veterans and active military members. To step up and help is something all together different. We are answering the call for help. Will you answer? All it takes is for you to log on to Amazon or Barnes & Noble and spend 99 cents, and then hopefully share the great news on our labor of love. Not only will you receive eight full-length novels for your enjoyment, you will also tell our men and women who suffer from this terrible and debilitating illness that we've got their backs.
Love, Honor, & Hope is available on Amazon and Barnes & Noble from June 24 to July 23. It includes the following full-length novels:
Out of the Box Awakening - Jennifer Theriot
Early One Morning - Aubree Lane
Lost and Found - Jennifer Yarbrough
Scary Modsters - Diane Rinella
Tropical Dreams - Kelly Cozzone
Sisters of the Night - Linda Lee Williams
Heart of the Hunter - Cherime MacFarlane
Piece of Heaven - Sammie J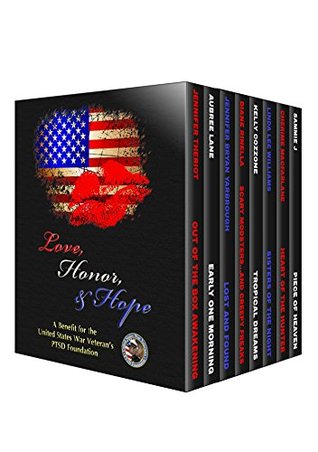 Love, Honor, & Hope - A Benefit for the United States War Veteran's PTSD Foundation
Release Date: June 21, 2014
For 30 days eight authors bring you 8 novels in Love, Honor, & Hope. All proceeds benefit The United States War Veteran's PTSD Foundation.
THE NOVELS:
Out of the Box Awakening
- Jennifer Theriot: Olivia has the picture perfect life. She's got it all and doesn't want things to change. Swept from her life in Houston, Olivia finds herself in Chicago, alone, betrayed, and far from home. Everything she thought she knew is about to come crashing down. Ash is the man who has everything—everything except healing from the losses of a lifetime. His peace lies in the flow of music pouring from his guitar. What happens when the married woman and the handsome sexy widower are thrown together by fate?
Early One Morning
- Aubree Lane: He was the dark haired deity with a salacious smile. 2600 miles away Terence Javier's senior portrait was being drooled over by a teenaged all-girl choir. Years later Marrisa runs into the choir's heartthrob, Annie, catches the red eye and foils her plan. This envious act uncovers a scandalous affair, and their lives will never be the same.
Lost and Found
- Jennifer Yarbrough:
Olivia's life drastically changes in the blink of an eye when she and her family are in a tragic accident that leaves her the only survivor. Flash forward to a year and a half later when her best friend Claudia forces her out of the house where she meets multi-millionaire Cash Kingston. Cash has his own inner demons, but all of that changes when he meets Olivia. Will Olivia take him up on his offer to work for him or will she run back and hide from the world where she felt safer?
Scary Modsters ...and Creepy Freaks
- Diane Rinella: Rosalyn lives out of her time—bringing ridicule for her eclectic wardrobe and far-out music collection. Niles' offbeat character is the perfect complement—but he possesses a critical flaw. Rosalyn accidentally summons Rock deity Peter Lane back from the dead. He's the precarious puzzle piece that brings sense into her world. Since Niles can defeat his challenge by helping Peter avenge his death, how far will he go to secure Rosalyn's heart?
Tropical Dreams
- Kelly Cozzone: Betrayal and death permeated Tiana Alexander's past and threatens to rip apart her future. Bringing Tropical Dreams to life is the culmination of facing all life has dealt. David Murphy walked into her club and made her want to trust and love again. Can David keep her alive long enough to find out who is after her? Can he put aside his own demons for her? Can they overcome deceit, betrayal and more death? Or will life finally take its toll!
Sisters of the Night
- Linda Lee Williams: Meet Emaline, Juliana, and Gretchen...not your usual "sisters." Emaline...beautiful and beguiling. Will a regular man break this vulnerable vampire's heart? Juliana...glamorous and alluring. Will this arrogant vampire end up losing the love of her life? Gretchen...lovely and enchanting. Will this powerful vampire be able to hang on to her charming but fickle vampire lover? Three "sisters," three love stories...Will they have a happily ever after?
Heart of The Hunter
- Cherime MacFarlane: Jay Leighton, back from Afghanistan, lives in the Copper Basin. Alone, the hunter is trying to heal. The last thing he needs is to be brought face to face with the pretty new teacher. His head is not ready his heart is lost. Leda, just out of school, has no time for love. There is something in Jay she needs. Leda worries about her reputation. She should stay away from Jay. Who is the hunter here?
Piece of Heaven
- Sammie J: Aaron Calnan has seen enough of the horrors of war. He wants to put it behind him, take his life in a new direction. But when he takes a strange military posting for an organization called RUM, he has no way of knowing the challenges he will face. His decision takes him into unknown territory with unexpected twists and turns. Then, one encounter changes everything and Aaron finds his life turned upside down. Will he finally find his own piece of heaven?