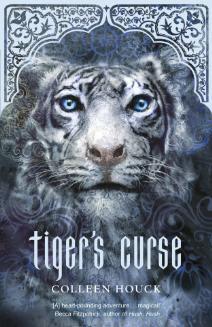 Tiger's Curse
by Colleen Houck
Release Date:
January 11, 2011
Pagecount:
403
Publisher:
Sterling
Series:
The Tiger Saga #1
Source:
Publisher in exchange for an honest review
Buy It:
Amazon
|
B&N
Description from
Goodreads:
Passion. Fate. Loyalty.
Would you risk it all to change your destiny?
The last thing Kelsey Hayes thought she'd be doing this summer was trying to break a 300-year-old Indian curse. With a mysterious white tiger named Ren. Halfway around the world. But that's exactly what happened. Face-to-face with dark forces, spellbinding magic, and mystical worlds where nothing is what it seems, Kelsey risks everything to piece together an ancient prophecy that could break the curse forever.
Tiger's Curse is the exciting first volume in an epic fantasy-romance that will leave you breathless and yearning for more.
Tigers are my favorite animal and shifters are my favorite paranormal creature. When those two are mixed, it only makes sense that I'd be all over that like white on rice, yeah? And I was. I enjoyed this book so much, both because of the characters and because of their story their story. I can already tell this is going to be an addicting series.
The story is told in first person from Kelsey's POV. Honestly, Kelsey isn't the greatest MC in the world. She can be annoying. And some of the stuff she says feels forced. She's very much a Mary Sue. Lucky for her, she had the other characters around her to make her seem not so bad. With the others around, I could deal with Kelsey. Oh, wait. KELLS. She wants to be called Kells. Yeah. Okay.
Ren is the love interest and a total gentleman with an alpha male streak. Makes sense, considering he's part tiger. The gentleman side balances out his somewhat controlling side so that he's not super annoying. I was actually a huge fan of Ren. I want things to work out for him and Kelsey. Though, I am Team Kishan. Kishan is Ren's brother, and yes. They have one of those brother-rivalries revolving around a girl. I don't care, I like them both anyway. I know it's kind of a trope, but in this case it doesn't bother me so much since the guys don't spend too much time moping around about it. The situation usually only gets brought up when Kelsey asks questions.
So yeah, I'm Team Kishan (who is freaking awesome), but I want Kelsey and Ren to be together. I actually think they're great together. And Ren deserves some happiness after the crap his life has been. Kishan does, too, but I don't think he and Kelsey work as well as she and Ren do. The romantic aspects in this story were both frustrating and a great relief. More so on the relief. I love romance, and Ren is so, so great at saying the sweetest, most perfect things. And he says some of it in a different language, too, which definitely works in his favor.
The adventure and culture aspects of this story are interesting and fun. Though there were several instances where I felt like I was drowning under a mound of info-dump, I still appreciated the fact that the topics were different from the usual stuff. I enjoyed learning the new stuff, and I was actually really interested in it all. And the journey, searching, adventures were a great time. Ren was always there, and we know how I feel about him. He was all protective, and I was all like YES KEEP MAKING ME FEEL HAPPY. So it was a win-win thing. The plot flowed pretty well, save for the info-dumps. I managed to wade through those fairly quickly, however, so it didn't take long to get back into the parts I more enjoyed.
Overall, I love the premise of this series and I enjoyed this first installment so much. The guys are definitely worth swooning over, the adventure is just plain fun, and I am absolutely dying to dive into the next book. I'm already addicted!