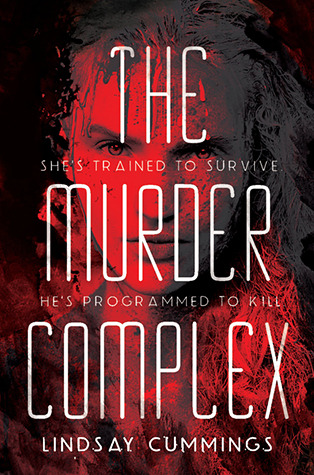 The Murder Complex
by Lindsay Cummings
Release Date:
June 10, 2014
Pages:
398
Publisher:
Greenwillow Books
Series:
The Murder Complex #1
Source:
Gifted
Buy It:
Amazon
|
B&N
Description from
Goodreads
:
An action-packed, blood-soaked, futuristic debut thriller set in a world where the murder rate is higher than the birthrate. For fans of Moira Young's Dust Lands series, La Femme Nikita, and the movie Hanna.
Meadow Woodson, a fifteen-year-old girl who has been trained by her father to fight, to kill, and to survive in any situation, lives with her family on a houseboat in Florida. The state is controlled by The Murder Complex, an organization that tracks the population with precision.
The plot starts to thicken when Meadow meets Zephyr James, who is—although he doesn't know it—one of the MC's programmed assassins. Is their meeting a coincidence? Destiny? Or part of a terrifying strategy? And will Zephyr keep Meadow from discovering the haunting truth about her family?
Action-packed, blood-soaked, and chilling, this is a dark and compelling debut novel by Lindsay Cummings.
I've been extremely excited about this book ever since I first heard about it goodness knows how long ago. Just the words on the cover make this book pique my interest, "She's trained to survive. He's programmed to kill." I mean, sounds crazy awesome, right? In theory, this book seems wonderful. The actual execution of this idea, however, turned out to be somewhat rocky for me.
I really liked the characters. It took a while for Meadow to grow on me, but she eventually did. I liked how strong and confident she was, and I loved how she was determined to protect her family--especially her little sister. I didn't like how she very often assumed she knew best, so she jumped to conclusions several times. I get why she was that way, but that doesn't mean I liked it.
I totally loved Zephyr, though that guy confounded me more than once. Just when I thought I had him figured out, things changed. Still, he was so in awe of Meadow and that endeared him to me so that when he got perplexing later in the story, I was sort of...okay with that.
Along with the characters working well for me, the plot didn't do so bad either. It took a bit to really get into the book, but after that point it held my attention pretty well. I was there with Zephyr and Meadow trying to figure out what the stars was going on. I was also a fan of Lindsay Cummings' writing style. It just felt so unique to me, and somewhat simplistic. That fit well with all the bloody kickassery going on within the story (which I loved).
While I liked the characters and the plot was fine, the world and the world-building fell flat for me. I spent way too much of the novel confused as to what was going on. I mean, there's a point where that's fun. It's mysterious and riveting. This book crossed that line for me, though. The world was like Zephyr--I kept thinking I knew what it was like, but then it changed somehow and I got confused again. It was fine for Zephyr, but the WORLD should have rules. It should be set so we can understand it. I have a feeling more of my questions will be answered in the next books in the series, but I would have liked a better grasp everything NOW, in this book.
Overall, I liked The Murder Complex. I was a huge fan of Zephyr, and Meadow grew on me. The plot was bloody and fast-paced after the initial introduction to the story. My only wish is that the world would have been better explained in this novel. All that said, I do plan on sticking around for the sequel to see where the story goes for these characters I do enjoy.