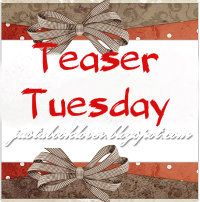 Do you want to participate
in Teaser Tuesdays? It's simple and hosted by MizB from
Should Be Reading
. All you have to do is:
-Grab your current read
-Open to a random page
-Share two (2) "teaser" sentences from somewhere on that page
-BE CAREFUL NOT T INCLUDE SPOILERS! (make sure that what you share doesn't give too much away! You don't want to ruin the book for others!)
-Share the title & author, too, so that the other TT participants can add the book to their TBR
Lists
if they like your teasers!
On September 27, one of my best friends turned 16. When I was on the phone with her that day, I promised her I'd do a teaser post of a book she had really enjoyed recently (and, luckily, one I've read and liked immensely). So, today, my teaser is a HAPPY BIRTHDAY to her, and it's from...
I Heart You, You Haunt Me by Lisa Schroeder
Release Date: January 8. 2008
Publisher: Simon Pulse
Girl meets boy.
Girl loses boy.
Girl gets boy back...

...sort of.Ava can't see him or touch him,
unless she's dreaming.
She can't hear his voice,
except for the faint whispers in her mind.
Most would think she's crazy, but she knows he's here.
Jackson.
The boy Ava thought she'd spend the rest of her life with.
He's back from the dead,
as proof that love truly knows no bounds.
Teaser:
"He couldn't help it.
He started laughing too.
Then he pulled me
into his arms
and whispered
in my ear,
'I just love you so much.
I want to be with you always.'"
Yes, this book is in verse. It is beautiful and sweet, and I like it.
Leave links in the comments to your teasers--I'd love to see them! And if you feel so inclined, feel free to wish my friend Vicki a happy belated birthday!
♥Jessica(: