Days of Blood & Starlight by Laini Taylor
Release Date:
November 6, 2012
Format:
Hardcover, 528 pages
Publisher:
Little, Brown Books for Young Readers
Series:
Daughter of Smoke & Bone #2
Source:
Bought!!
Description from
Goodreads
:
Once upon a time, an angel and a devil fell in love and dared to imagine a world free of bloodshed and war.

This is not that world.

Art student and monster's apprentice Karou finally has the answers she has always sought. She knows who she is—and what she is. But with this knowledge comes another truth she would give anything to undo: She loved the enemy and he betrayed her, and a world suffered for it.

In this stunning sequel to the highly acclaimed Daughter of Smoke & Bone, Karou must decide how far she'll go to avenge her people. Filled with heartbreak and beauty, secrets and impossible choices, Days of Blood & Starlight finds Karou and Akiva on opposing sides as an age-old war stirs back to life.

While Karou and her allies build a monstrous army in a land of dust and starlight, Akiva wages a different sort of battle: a battle for redemption. For hope.

But can any hope be salvaged from the ashes of their broken dream?
This is one of those reviews where I know exactly what I want to tell you. I'm just not sure how to say it. *sigh*

Let's start with Laini's writing. It is still completely beautiful and descriptive and engaging. It still dragged me in and held me captive for unknown amounts of time until I (reluctantly) had to put the book down for a little while for whatever reason.

Next, the emotions. Guys, this book is so depressing. I mean, come on, it's a book about a WAR for goodness' sake. What would we expect? It's amazing how captivating this book was despite the fact that I was dreading what might come next a lot of the time. There were just...just so many feels. You know?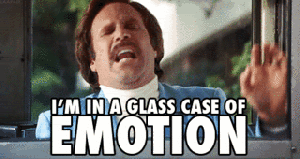 I cried for this book, you know. I also laughed. Hysterically, actually. It was more of a relieved thing from time to time. Oh, and when Zuze & Mik were around. Those two are adorable.

Character Rundown:
The characters! SO. MANY. Great ones this time around.

Karou: I may not be a huge Karou fan, but I respect this girl completely. She has a backbone, though it does take her a bit of time to, you know, FIND it. Also? Her blue hair is so badass.

Akiva: Akiva was always MY BOY. And he still is. Kind of. He just has to share me with some other characters I'll talk about later... Akiva is still Akiva. That was nice. It was great to see Akiva still be himself while everything else was a mess. He thinks and cares about Karou first and foremost. However, he does not let this consume him. He does keep going and doing whatever good he can and for that, Akiva will always have a place in my heart.

Ziri: Who IS Ziri, you ask? Why, Ziri is my freaking boy. He is just my EVERYTHING in this book. I worried for him the most, and he was the absolute kindest. Out of everyone, I think he had the purest intentions in everything he did. Just thinking about him now...GAH! I need the next book so I can see what'll happen with him!

Zuzana & Mik: I'm throwing them together because they are ALWAYS together. They are also super cute. These two bring the laughter into the story. Lighten it up a bit. And though their chapters were usually thrown in at parts where I was FLIPPING OUT, I always appreciated seeing them. I hope they get their happy ending when this is all over. Goodness, they deserve it.

Rath & Hazael: I was so worried for Rath! He's just a boy. He's just a boy, and all he wants to do is fight with the rebels and help them keep their kind safe. I just...this boy gets to me. And HAZAEL! I will love him forever for letting the "birds" get away. I cried over him, too. These two boys...they're some of the others that make Akiva have to share.

There are other characters, too, of course, but those are the biggies. I would consider Liraz important, too, but I chose to gush over Hazael instead. I'm coming to like Liraz a whole lot more now, though. She does have feelings. Good to see this.

DAYS OF BLOOD & STARLIGHT was one of those books that I just read and read and read, and then at the end, it hit me. This book was amazing. It was beautiful. And wonderful. And PHENOMINAL. While completely different from DAUGHTER OF SMOKE & BONE, it's just as striking.

Whereas DAUGHTER was a tragic love story that left me a mess at the end, DAYS was a heartstopping story of the war that followed the ending of DAUGHTER. Which also left me a mess at the end...

The ending. What would life be without cliffhangers? Waiting for the next book just may kill me. I repeat: I was a mess.

Oh, and I'm Team Akiva. I positively ADORE Ziri, but it's obvious who Karou's going to end up with. I don't know if Laini meant for a love triangle, but still. I said it here. UNLESS something horrible happens to Akiva. Which hello, this is a WAR is possible. Sadly.

Overall, If you're one of those people who tend to stall on all sequels that aren't written by Jennifer L. Armentrout, you should pick this one up. It'll tear you apart then put you back together again more than once and completely blow you away. Beautiful, beautiful story.
♥Jessica(: