NetGalley
Hooked by Liz Fichera
You know my friend Jana from
The Book Goddess
? Well, she says great things about this book. So I'm pumped about this one. :)
Borrowed:
Shadows by Jennifer L. Armentrout
I'm sure you know by now that I am, urm, somewhat...obsessed with JLA. Her books are amazing and that is all. Well, my friend Trini is letting me borrow her Kindle copy! So I finally get to read this piece of aweseomness! *squee!*
And that is all I got this week. What did you get?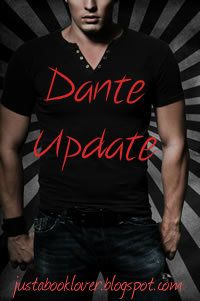 Just a quick Dante Update!
Not much I can think that needs to be mentioned...
1. I GOT A NEW BADGE! See it and all its gorgeousness? Mhm, yeah. I earned that. BOOM. Hehe. :)
2. If you haven't added THE COLLECTOR on Goodreads, do it! Happy things will happen if you do. Click
HERE
to head on over to add this piece of OMG. ;)
1. You know that Opal ARC giveaway Jen was having? Well, it's still happening! Click
HERE
to head on over and enter!!
2. You know the Opal release party? The one that's going to be in Houston? Well, if you plan on going, you should RSVP! Click
HERE
for more details and to RSVP :)
So. It's officially the Christmas season! We all know how completely hectic life gets at this time of the year. It's my absolute favorite, but even I can't deny that how busy I am goes up a bunch. School, reading, blogging, Christmas-y things, etc. It's a lot. Which means I have to do SOMETHING to make this time less stressful. It's supposed to be a happy time, yes?
So I'm NOT going to take a blogging break. Nooooo. I can't even imagine doing that at this time of the year. I'm seriously excited to have a Christmas with you guys. (Via blogging, of course.) No, instead, I'm just going to slow down a little. I'm not going to read as much. I may not post as much. I'll probably still have at least one post something like every day, but I probably won't do more than one post a day. I'll still review books, I'll just do, like, one review a week instead of three.
This is all PROBABLY. As in, I may change my mind and decide to blog my booty off. As of this moment, though, I kind of want to chill a bit. Just like all of us in school, I have midterms coming up that I have to, you know, not fail. And I have Christmas movies that I want to, you know, watch. So yeah.
That's my update--I'm taking a blogging cooling period.
And I have some cool stuff planned for this month, just so you know ;)
Thank you guys for being so awesome! I have OVER 500 followers right now. Do you know how amazing that is?!?!!!!
Seriously. Thank you.
♥Jessica(: