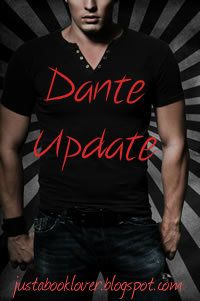 1. Have you added Dante on Goodreads yet? Because if you haven't...urm. Yeah. DO IT. Here's what'll happen if we get enough adds:
4,000 adds by December 31, 2012 = exclusive excerpt provided to all Family members to read, post on their sites, etc.
4,500 adds by December 31, 2012 = exclusive trailer (approved by Dante himself) provided to all Family members to watch, post on their sites, etc.
Current Total = 3,225
Click HERE to add Dante to your Goodreads list!
2. Did you see Victoria's announcement? Dante is going to be sold in big, happy places!!!! (Ha, I just realized that I refer to this book as "Dante" and awful lot, don't I? It's called THE COLLECTOR, people. I hope you know that.) Anywho, this is a BIG. DEAL. Seriously. *squeee!*
To see Victoria's crazy town announcement, click
HERE
3. If you actually looked at the crazy town announcement, you should know this, but if you are lazy (LIKE ME) and didn't I should tell you this...THE COLLECTOR's release date? It's not on March 12, 2013 anymore. *cries* It got pushed back.
The new release date for THE COLLECTOR is April 2, 2013.
I was sad about this, but I got over it. It's only three weeks. Plus, this will make Dante more accessible so we gush about it to more people! The sad part for me, though, is that the release won't be one month after my birthday anymore. No fun Victoria Scott things around birthday time. But we all shall live. :)
Now, for Daemon...
No, this is not at my house. HA, I WISH. No, this is at Jen's. Yes. Jen's. As in Jennifer L. Armentrout, my favorite author EVER. She got all this gorgeousness in the mail on Friday.
I know what you're thinking: "What is she gonna do with it?" I thought the same thing. I mean, all that awesomeness in one house would surely cause something to blow up, right? THOSE POOR ELECTRONIC DEVICES. But Jen's already told us what she's going to do with some of that Daemon-ness.
She's giving some of it away.
You heard me. She's being her sweet, generous self and giving three copies away, plus some beautiful Lux swag!!
How do you enter, you ask?
Click HERE to head on over to Jen's blog for the deets!
If you're still here, I just want to make one more quick comment: I love what she titled that post. "Want To Read OPAL?" Hehe.
Now, if you're STILL here, I'm going to tell you this: the OPAL trailer was revealed this week. Um, yeah. If you haven't already seen (though you probably have, because it was EVERYWHERE on the blogosphere on Wednesday), you can see it here!
AHH, I can't wait for this book. ;)
♥Jessica(: