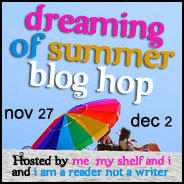 For this one, I'm giving away three books that I hold very near and dear to my heart.
The Summer Trilogy by Jenny Han
The Summer I Turned Pretty
It's Not Summer Without You
We'll Always Have Summer
These books tear my heart apart and make me smile so big at the same time. I love them in a way that astounds even me. And, because you should know, Jere's a sweetheart, but I'm Team Conrad. Always have been, always will be. It's hard to choose between the Fisher boys, though...
Anyway. All three books. One winner. Because I cannot bear to be so cruel as to give someone only one of these books. You need all three, or else your life would not be complete.
Deets:
-This giveaway is INTERNATIONAL (I promised, didn't I?)
-One winner gets all three books in paperback
-My giveaway policy applies, so make sure you've read it

Hop on, good people!

♥Jessica(: